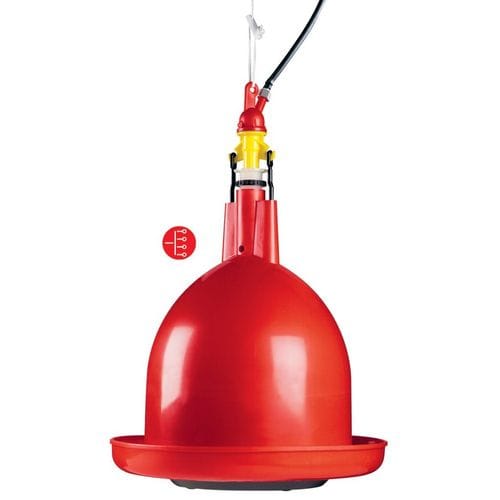 Plasson Breeder Drinker Complete
The Plasson Breeder Drinkers are made of a rugged high-impact plastic, formulated to withstand the ravages of the active breeder house for many years. The unique feature of the Plasson Breeder Drinkers is the ballast bottle, which acts independently of the bell and eliminates wear on the valve mechanism.
Shipping and GST are calculated at checkout
Approximately 10-12 Plasson Breeder Drinkers are needed per 1000 adult birds. (In hot climates, 12-14 drinkers per 1000).
For optimum efficiency, the working pressure is as follows: Breeder Drinker Bar 0.4-0.6 (6-8 psi). Compact Breeder Drinker Bar 0.4-0.8 (6-12 psi). The pressure can be regulated by means of a pressure regulator or via a head tank.
The ballast bottle should be completely filled with water up to the water level line. In frost prone areas, add antifreeze to the water.
Adjust drinkers to the proper drinking height, always keeping the drinker lip a little higher than the bird's back.
Keep water level in the bell trough as low as possible.