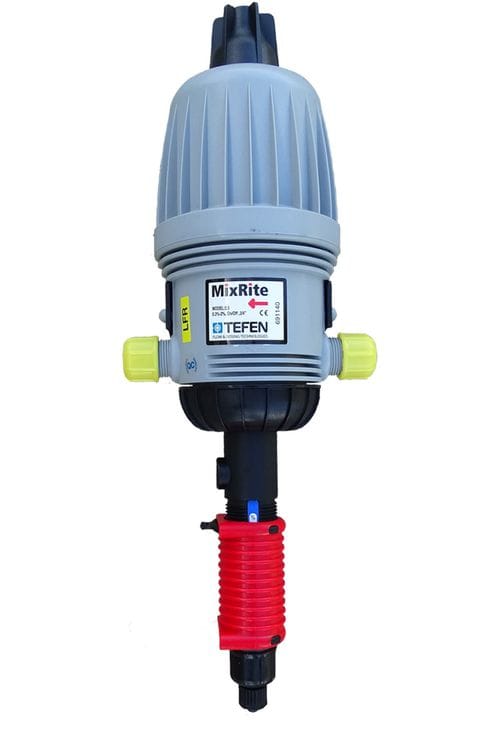 MixRite Medicator
MixRite injectors are used to add exact dosages of medications, vitamins, minerals and vaccinations into livestock watering systems. When used with cleaning agents, MixRite assists in disinfecting and cleaning lines and installations.
Shipping and GST are calculated at checkout
MixRite's main advantages are:
Easy to install
No electricity needed
Easy to adjust dosing percentage
Replaceable seals
Works at very low flow rate
Easy to field repair
Highly Chemical resistant
Perfect blending
Highly resistant to UV Working Pressure: 0.2 - 8
Chemical Resistance:
Standard
Dosage Rate: 0.4% - 4%
ON OFF System:
No [Air Release]
Chemical Bypass: Standard
Coupling:
3/4"
Thread Type: BSPT
Max Pressure Loss:
1.4 Bar
Min Pressure Loss: 0.2 Bar
Flow Rate Range:
10-2500 l/h (2.6 to 660 Gal/h)
Weight: 2.8 pounds
Color:
Grey
Dimensions: 22" X 7.27"
Water Pressure:
0.2-8 Bar [2.9 to 120 PSI]
Overview: MixRite is a water driven proportioning injector
for pumping an additive into a water line at a
consistent induction rate over varying water
pressure and flow rates.
Model:
2504 - P04
Min Injection Per Hour: 0.12 l/h [0.03 GPH]
Max Injection Per Hour: 100 l/h [GPH 26.5]