| | |
| --- | --- |
| | |
Plasson's Easy Start guarantees you:
A Uniform and Heavyweight Flock
Very Low Mortality * Drier Litter
Healthier Birds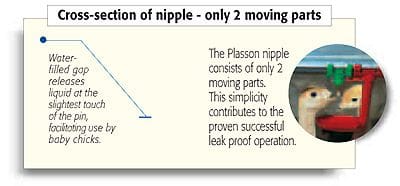 Drinker Cross Section
Plasson's Turkey Nipple System promotes better growth by providing healthier conditions for your day-old poults all the way through seven weeks.
The enclosed overhead watering system keeps your floors dry while supplying dependable, high volume water flow. The Plasson Turkey Nipple Drinker is 360° activated for maximum water availability at all times. This Plasson overhead system provides unrestricted bird movement, excellent feed conversion, low condemns and very little maintenance.

You can count on Plasson quality.
All stainless-steel construction, proven failsafe valve and leak-proof joints and connections are nipple system features that have made Plasson the leader in the industry, and they give you optimum performance in your grow-out houses.
These superb Plasson products are available through the Plasson worldwide distributor network. Plasson's experts are available for installation, service and original spare parts. Browse the list of distributors to find one nearest to you, and let us show you how Plasson's Nipple System can bring optimum performance to your operation.