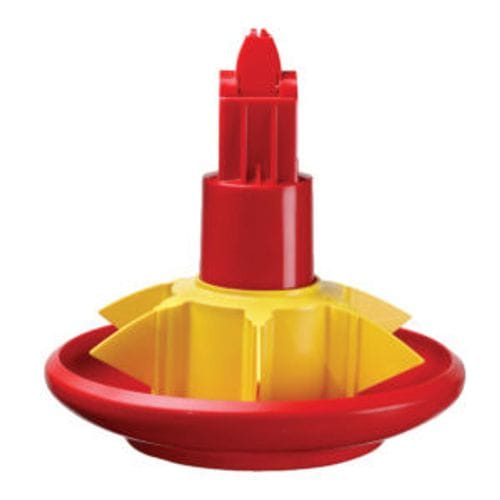 Plasson Manual Flood Feed Pan (Please contact TSA for availability)
Advanced feeding systems for broilers. The innovative design of the pan, without grille, added to the special edge profile, allows the birds to easily reach the feed even during the first days, thus achieving better results.
Shipping and GST are calculated at checkout
The patented self adjusting feed level system of the feeder pans is very simple to operate, requiring no adjustment through grow-out.
Optional: Manual adjustment of the pans Manual regulation of the feed level is extremely simple, by raising and slightly turning the yellow regulator. The simplicity enables correct feed level at every age of the flock, thus obtaining record feed conversion rates.
Simple and easy cleaning - The removable cone allows collection of unused food and thorough cleaning after each flock.
The Feed hopper has an independent sensor and is formed by two distinct parts: Plastic hopper with a capacity of 50Kg.
The Control Unit's low volume ensures frequent operating of the feeding system thus stimulating the feed consumption.
Intermediate control pan
Optional: Shut off system each pan can be shut off individually when necessary.
Plasson's renown quality The pans are produced according to Plasson's high quality standards and produced from the same materials as the reputable Plasson bell drinkers, thus ensuring longevity and resistance to UV and to strong disinfectants.